We accept secure on-line orders via Paypal shopping cart. You do NOT have to have a Paypal account to use our cart. (Paypal accepts Debit Cards & All Major Credit Cards.)

NOTE: Sorry, we no longer accept phone orders. Please use our online secure shopping cart to place your order.

The information contained in this web site is NOT intended to prescribe or diagnose in any way
and is not a substitute for professional help. Please read the product warnings, listed under HERBS before ordering!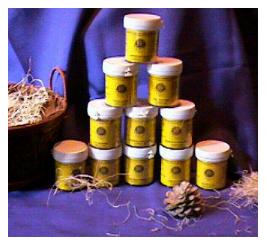 CAPSULES
(50 caps per bottle = $9.99)
(60 caps per bottle = $12.99)



1. KIDNEY STONE B-GONE CAPSULES CAPSULES: ($12.99)
NEW - 20% MORE! 60 caps in each jar!
The anti-lithic and diuretic properties in these herbs break up kidney stones and help pass them through your system.
INGREDIENTS: Dandelion, Gravel Root, Hydrangea, Couchgrass, Marshmallow, and Uva Ursi.


2. MIGRAINE HEADACHE CAPSULES: (Available in 50 count only / $9.99)
Migraines begin with a period of mild confusion, visual problems such as blind spots and flashing lights which lead to super-sensitivity to noise and intense pain. Migraines can also have accompanying nausea and vomiting. These capsules are an effective course for the temporary relief of headaches and migraines, and the nausea sometimes associated with them.
INGREDIENTS: Feverfew, Valerian, Wood Betony, Chamomile & Meadowsweet.


3. CIRCULATION CAPSULES: (Available in 50 count only / $9.99)
Leg cramps? Cold feet and hands? These capsules contain an advanced herbal blend for healthy circulation.
INGREDIENTS: Hawthorn, Ginkgo Biloba, Ginger, Butcher's Broom and Rosehips.