We accept secure on-line orders via Paypal shopping cart. You do NOT have to have a Paypal account to use our cart. (Paypal accepts Debit Cards & All Major Credit Cards.)

NOTE: Sorry, we no longer accept phone orders. Please use our online secure shopping cart to place your order.

The information contained in this web site is NOT intended to prescribe or diagnose in any way
and is not a substitute for professional help. Please read the product warnings, listed under HERBS before ordering!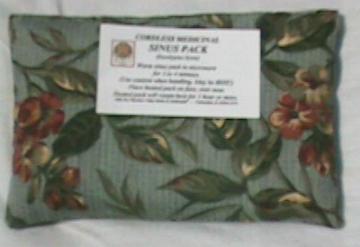 SINUS PACK

This reusable, all-natural, eucalyptus sinus pack is the perfect solution to ease sinus pain and blockage! Works within minutes, for all day relief, without the use of chemicals or drugs. Opens the sinus passages and relieve sinus pressure, quickly! This is a natural way to end sinus pain with soothing heat and aromatherapy. Heat pack for up to 1 minute in the microwave. Place warm pack on face, over the bridge of the nose. (Eucalyptus Scent)


1. SINUS PACK: ($9.99)
Approximately 7" x 4 1/2"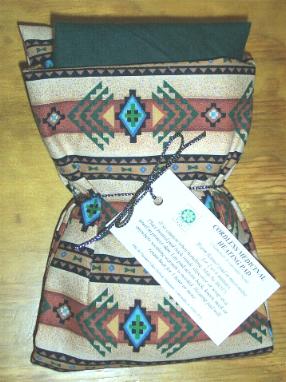 CORDLESS HEATING PADS

Heat flannel pad for 2 to 4 minutes in the microwave. Place on back, knees, neck, anywhere soothing warmth is needed. These heating pads retain their heat for several hours.
(Chamomile / Lavender Scent)


1. SMALL CORDLESS HEATING PAD: ($9.99)
Approximately 19" x 4"


2. LARGE CORDLESS HEATING PAD: ($12.99)
Approximately 19" x 7"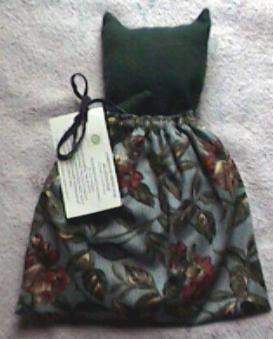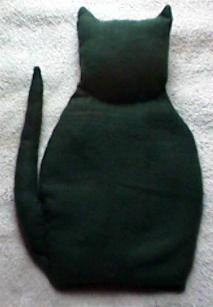 3. COZY KITTY CAT HEATING PAD: ($14.99)

This lovable, cat-shaped cordless flannel heating pad adds the warmth and security a child needs for a good nights sleep, at home or away. End the nighttime battle with this cuddly parent's helper! Especially soothing to children who are sick or fussy. (No buttons or zippers -- SAFE for kids of all ages! 100% all-natural ingredients!)